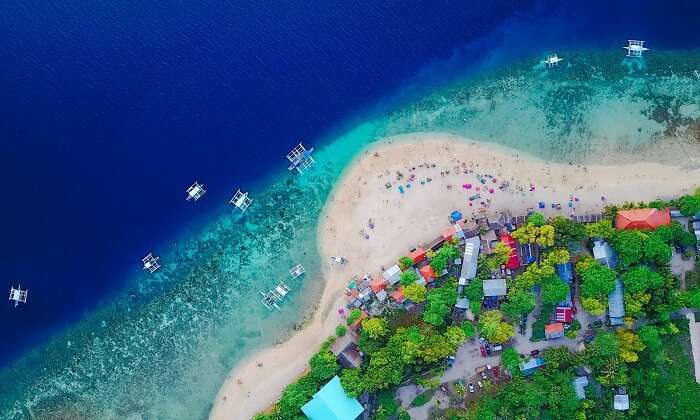 Written by
Shilpa Kulkarni
The Philippines, a popular destination, perfect for your luxury vacation, is a home to more than 7,000 islands. Sometimes, it becomes difficult to choose from a wide range of stunning islands to visit first. To say that the Philippines is an island lover's destination would be an understatement! The entire country is spread across islands, each of which is a traveler's delight. A list of the finest places to visit in Philippines
From transparent emerald seas to white sand beaches, the islands of Philippines offer the ultimate island getaway.
15 Best Places To Visit In Philippines
The Philippines offer you a wide range from mountains to tropical regions to metropolitans. Stroll around the colonial streets of Manila, or you can catch the glimpses of small tarsier monkeys in the private sanctuary. We have curated a list of the finest places to visit in Philippines that covers the best beaches, picturesque resort towns, and verdant jungles for you to explore. Take your pick:
1. Manila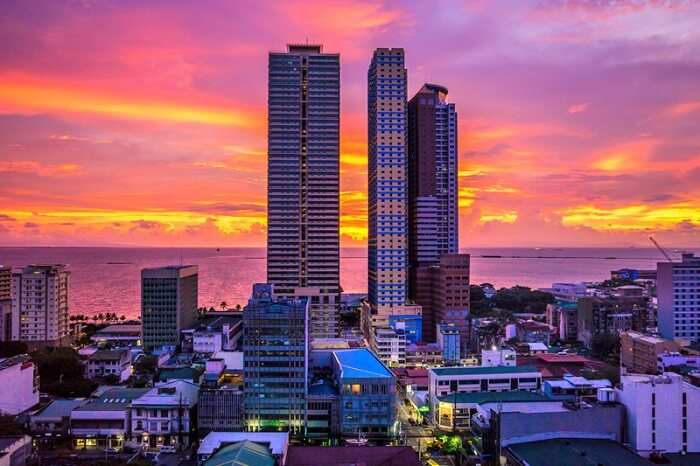 Image Credit: GoodFreePhotos
Manila, the capital of Philippines, is the heart and soul of the country. Gleaming skyscrapers rise across the Asian metropolis amidst the concrete buzz of the city. With modern parks, malls, and hotels with the best hospitality, Manila is one of the best places to visit in Philippines.
Places To Stay: Okada Manila, Red Planet Aurora Boulevard, Conrad Manila, Fairmont Makati, The Peninsula Manila
Places to visit: Fort Santiago, Pinto Art Museum, Ayala Museum, Manila American Cemetery, San Agustin Church, Chinese Cemetery, National Museum of the Filipino People
These 12 Places To Visit In Caloocan Will Ensure A Memorable Experience
2. Cebu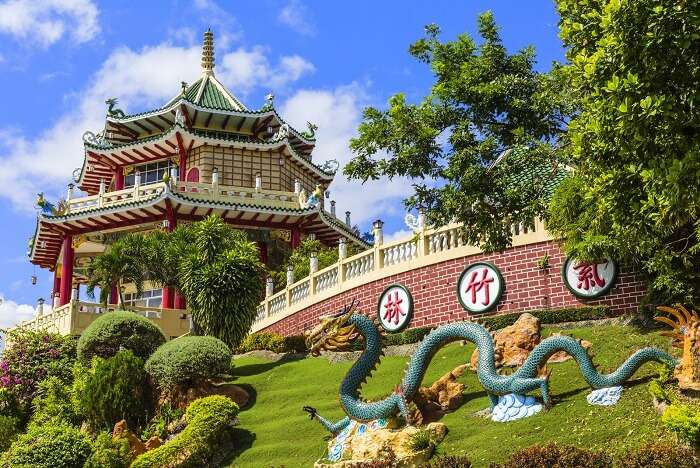 Cebu is located in the Central Visayas region of Philippines and includes more than 150 islands and islets. It ranks among the best places to visit in Philippines and draws more than 2 million tourists every year. With the white beaches and superb diving spots, Cebu has become the top tourist destination in the Philippines.
Places To Stay: Maayo Hotel, Carl's Island Inn, Carl's Island Inn, One Central Hotel & Suites, Appleton Boutique Hotel Cebu, Appleton Boutique Hotel Cebu
Places to visit: Museo Sugbo, Casa Gorordo Museum, Fort San Pedro, Basilica Minore del Santo Nino
3. Bohol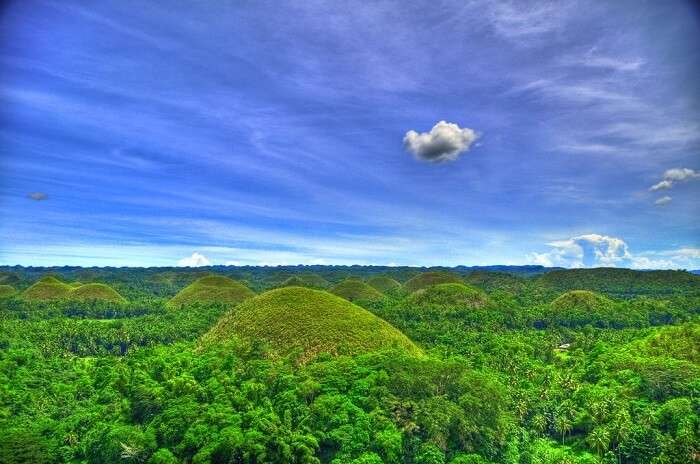 Bohol is the land of the iconic Chocolate Hills. These unique geological formations look like chocolate mounds especially in the dry season when they turn brown. These 1,200 hills draw in the crowds, making it among the top tourist spots in the Philippines. The rest of Bohol is covered in thick jungles with meandering rivers perfect for kayaking.
Places To Stay: Alaia Studios, RedDoorz near Panglao Municipal Hall, Bird of Paradise, Selectum Mangrove Residence, Three Little Birds Resort
Places to visit: Chocolate Hills, Philippine Tarsier Sanctuary, Rice Museum, Blood Compact Monument, San Pedro Church, Danao Beach, Lamanok Island
Nightlife In Philippines: An After-Dark Abode For Party Lovers
4. El Nido, Palawan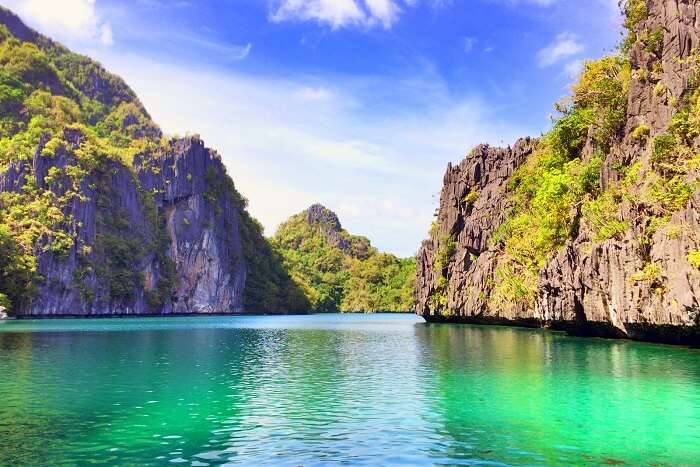 Image Source
When you are deciding where to go in Philippines, one of the first places you will come across is El Nido, the gateway to the stunningly beautiful Bacuit archipelago. The steep limestone cliffs right in the middle of blue-green Ocean is a sight for sore eyes! With many islets and caves to explore, El Nido is unmissable!
Places To Stay: La Españolita Resto & Rooms, Cuna Hotel, Focus Rooms, Maligaya Beach Bungalows, One El Nido Suite, ZEN Rooms La Soledad El Nido
Places to visit: Nacpan Beach, Marimegmeg Beach, Lio Beach, Duli Beach, Balay Cuyonon, Nagkalit-kalit waterfalls, Shimizu Island
5. Coron Island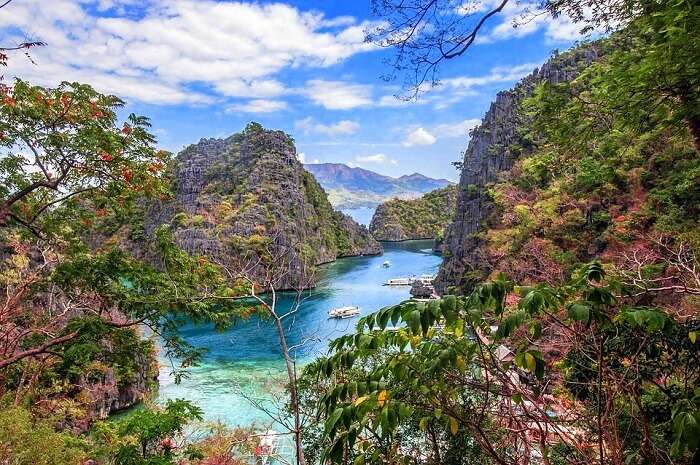 Image Credit: jahcordova by Pixabay
Coron Island is a part of the Busuanga and Calamian Islands and a base for access to all the nearby islands making it one of the top Philippines holiday destinations for adventurers! Mangrove kayaking, jungle trekking, motorbiking, island-hopping – these are just some of the activities to do in this pristine archipelago.
Places To Stay: Zenvea Hotel, Charms Hotel, Coron Soleil Express Hotel, Two Seasons Coron Bayside Hotel, Coron Visitors Hotel, Asia Grand View Hotel, Pirates Diving Resort Coron
Places to visit: Kayangan Lake, Twin Lagoon, Mount Tapyas, Occam Occam Beach, Aguila, Barracuda Lake
Philippines Honeymoon: Come, Raise A Toast To The World's Prettiest Island Country In 2022!
6. Puerto Princesa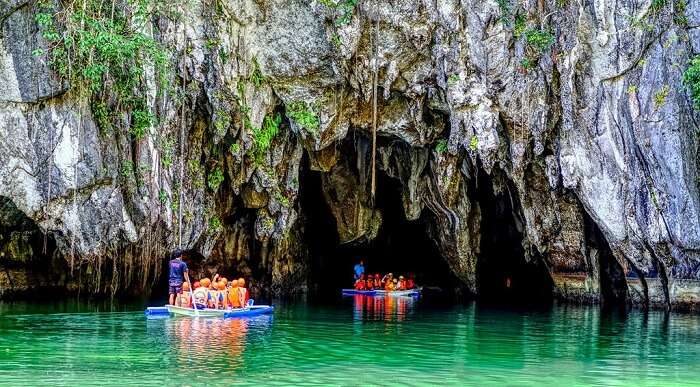 Puerto Princesa is the capital of Palawan and ideal to cover while on a trip to El Nido. It's the subterranean river that flows underneath the island that makes it among the top places to visit in Philippines. The area is a UNESCO World Heritage site and has incredible underground caves and limestone karst mountain landscapes. It was even voted among the New Seven Wonders of the World!
Places To Stay: Atremaru Jungle Retreat, Atremaru Jungle Retreat, Palawan Village Hotel, RedDoorz near Kinabuch Puerto Princesa, Sheridan Boutique Hotel
Places to visit: Puerto Princesa Subterranean River Park, Palawan Museum, Palawan Butterfly Eco Garden and Tribal Village, Palawan Heritage Centre, Nagtabon Beach
7. Mactan Island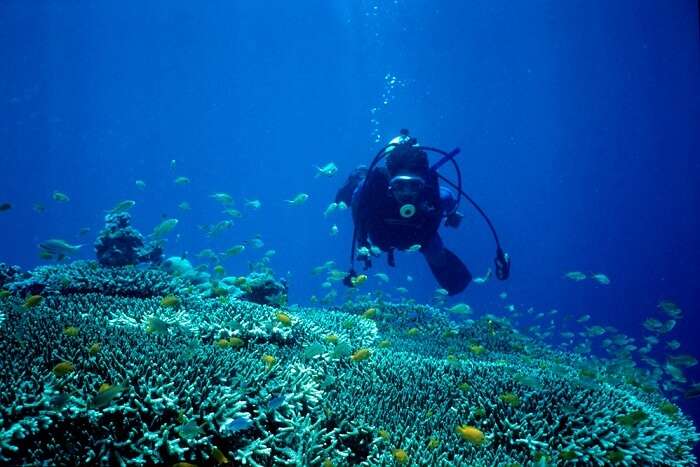 Mactan Island is where you head for luxurious relaxation! Housing many resorts, it is one of the ideal places to visit in Philippines for couples. With excellent diving spots, access to the shopping centres of Cebu City, and island hopping tours, it offers everything to honeymooners.
Places To Stay: Appleton Boutique Hotel Cebu, Eloisa Royal Suites, Waterfront Airport Hotel and Casino, Hidden Hill Hotel, Goldberry Suites and Hotel
Places to visit: Nalusuan Island Marine Sanctuary, Carbon market, The Palace Casino Cebu, Talima, Lapu-Lapu Monument, Olango Island Wildlife Sanctuary
15 Exotic Resorts In Philippines For A Spectacular Beach Vacation
8. Tagaytay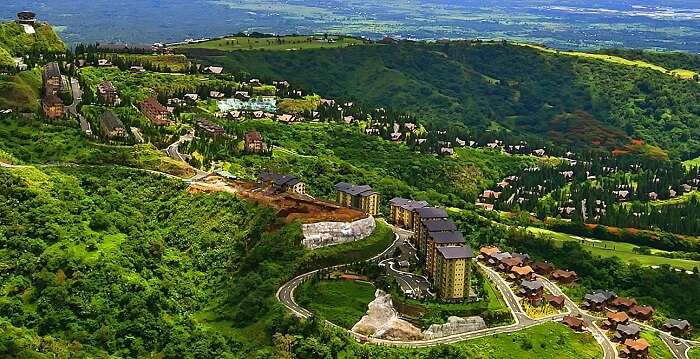 Tagaytay is a scenic town near Manila on the island of Luzon. Located precariously on the ridge of the Taal Volcano, it overlooks the beautiful Taal Lake. Its picturesque beauty ranks it among the most popular tourist spots in the Philippines. The town is awash with hues of blue and green throughout the year.
Places To Stay: The Perfect Get away, Taal Vista Hotel, Aviatrix Travel Concierge Services, Quest Hotel Tagaytay, Containers by Eco Hotel, Sang Yoo Mountain View Tagaytay
Places to visit: Taal Lake, Taal Volcano, People's Park in the Sky, Puzzle Mansion, Museo Orlina, Sky Ranch, Pink Sisters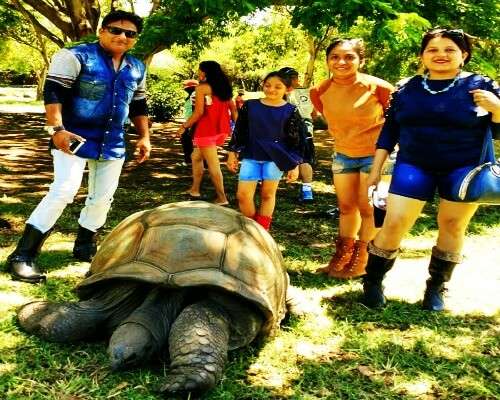 Sandeep Illustrates On The Best Activities For A Family Trip To Mauritius
Water sports. Cocktail parties. And unlimited fun at Casela.
9. Donsol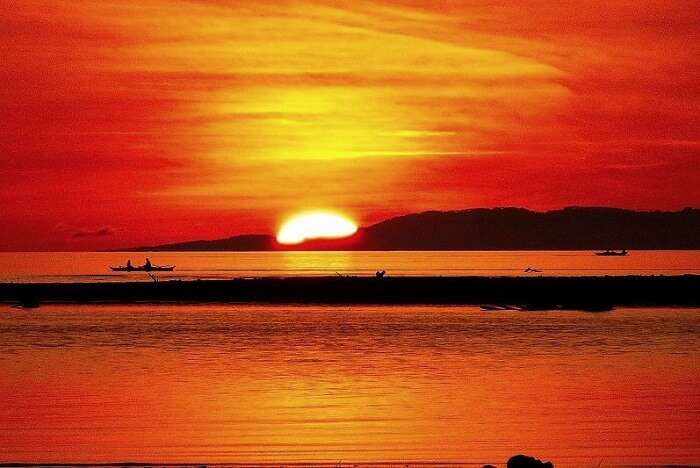 Image Source
Donsol is a wildlife enthusiast's delight! The island is often listed among the most visited tourist places in Philippines for its whale shark interactions. Whale sharks are a gentler, slow-moving variety of sharks and are the largest fish on earth. Swimming with the whale sharks is possible in this region and is an exciting experience you cannot miss!
Places to stay: Elysia Beach Resort, AGM Beachfront Resort, Vitton and Woodland Beach Resort
Places to visit: Donsol Whale Shark Interaction Centre, Jovellar Underground River, Sigpit Falls
5 Hotels In Philippines To Satiate Your Luxury Cravings
10. Vigan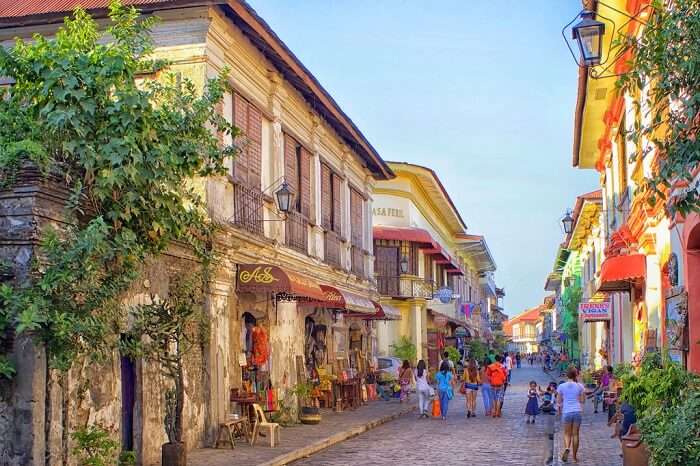 Not many people know about the Spanish conquest of the Philippines, but Vigan is among the best places to visit in Philippines to see this heritage live. In fact, it is also a UNESCO Heritage Site and you can experience the Spanish culture in its cuisine and architecture. Vigan ranks among the top 20 tourist destination in the Philippines and is a delight for history buffs.
Places To Stay: Paradores de Vigan, LaVie Hotel, ZEN Rooms Casa Marita Vigan, One Vittoria Hotel, ZEN Rooms Vigan Tourist Inn, Hotel Veneto De Vigan
Places to visit: Mestizo District, St. Paul Cathedral, Pottery Factories, La Nuestra Senora de La Asuncion Parish Church, Magsingal Museum, Juan Luna Shrine
11. Sagada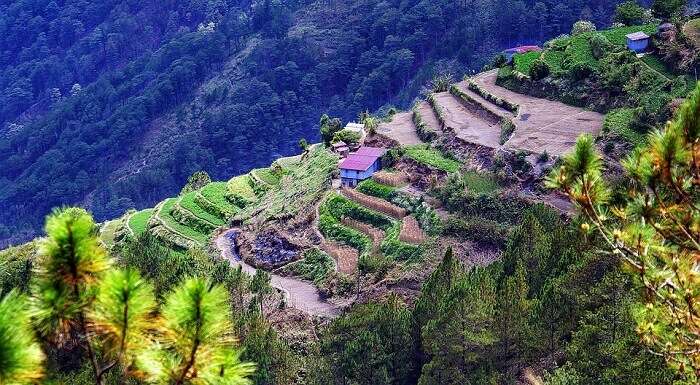 Image Credit: RichardMc Pixabay
Sagada is among the offbeat Philippines tourist attractions. The quaint town is located in the Cordillera Mountains away from the beaches and is famous for its limestone hills. The weird centuries-old coffins tied up high on the limestone cliffs are a sight to behold! The landscape is also dotted with rice terraces and the mountains hold secret caves and waterfalls.
Places To Stay: Gina's Hilltop House , Nuestra Hogar Lodge Sagada, Agape Log Cabin And Restaurant, Agape Log Cabin And Restaurant, Rusty Nail Inn, Banga-an BnB and Coffee House
Places to visit: Echo Valley Hanging Coffins, Sumaguing Cave, Bomod-ok Falls, Lake Danum, Kiltepan View, Lumiang Burial Cave, Ganduyan Museum, Besao
Top 10 National Parks In The Philippines For Adding A Little Adventure To Your Trip!
12. Moalboal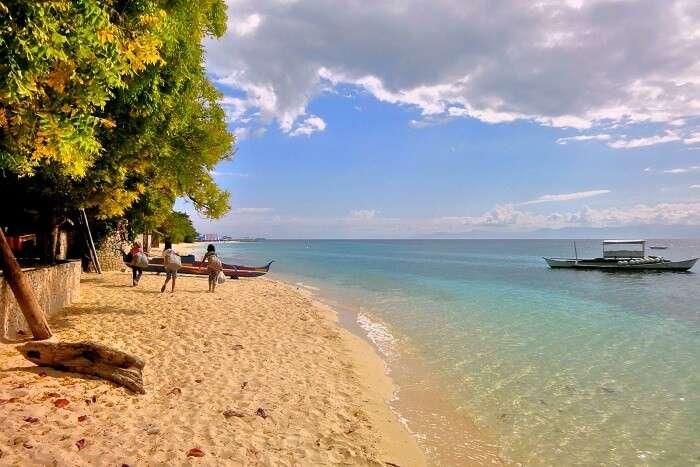 Image Source
Moalboal is an idyllic backpacker's destination. Located in Cebu province, its among the top tourist places in Philippines for diving. A spectacular coral wall is found right off the coast and is ideal for snorkeling. With many resorts and hostels to choose from, Moalboal caters to every type of traveler.
Places To Stay: D´Gecko Hotel, Krismark Dive Lodge, Speed 8 Inn by Cocotel, Cebu Seaview Dive Resort, Blue Abyss Resort , Adams View hotel
Places to visit: Panagsama Beach, Pescador Island, Candongao Peak, Badian Bay
13. Batan Island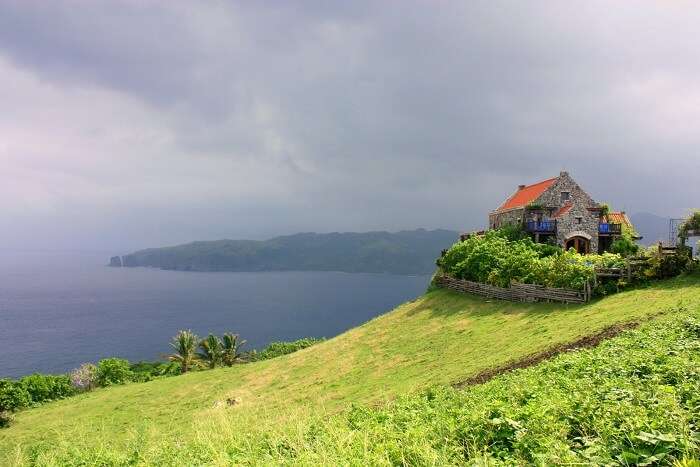 Image Source
Batan Island is located in the Batan province and is the perfect mix of hills, countryside views, and beaches. Blessed with a pleasant weather year-round, the island is one of the best places to visit in Philippines. It's also the best place to soak in the local culture and architecture.
Best Time To Visit: March to October
Ideal Duration: 2 Nights/3 Days
Places To Stay: Best Western Premier Panbil, Blitz Hotel Batam Centre, Beverly Hotel Batam, Aston Batam Hotel & Residence, Radisson Golf & Convention Center Batam
Places to visit: Vayang Rolling Hills, Basco Lighthouse, House of Dakay, Dipnaysupuan Tunnels, Tukon Chapel, Valugan Boulder Beach, PAGASA Weather Station
Boracay Island Shuts Down Temporarily Right After The Earth Day & You'll Be Ashamed To Know Why!
14. Siquijor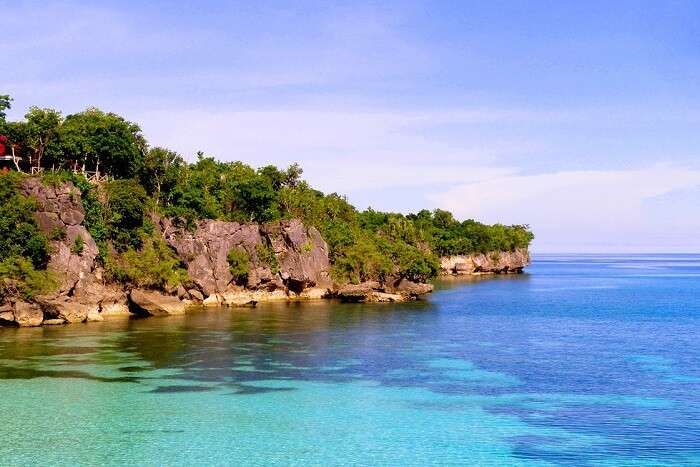 The wonderful island of Siquijor is filled with mystique and intrigue for Filipinos. The jungles of the island hold century-old secrets of local healers. But today, the island is also one of the most beautiful places in the Philippines and known for its waterfalls, beaches, and coral reefs.
Places To Stay: Monkey Republic Siquijor, Tropicasa Siquijor, Mandala Tribe Treehouses, charisma beach resort, Islandia Beach Resort
Places to visit: Paliton Beach, Cambugahay Falls, Balete Tree, Lugnason Falls, San Isidro Convent, Salagdoong Beach
15. Boracay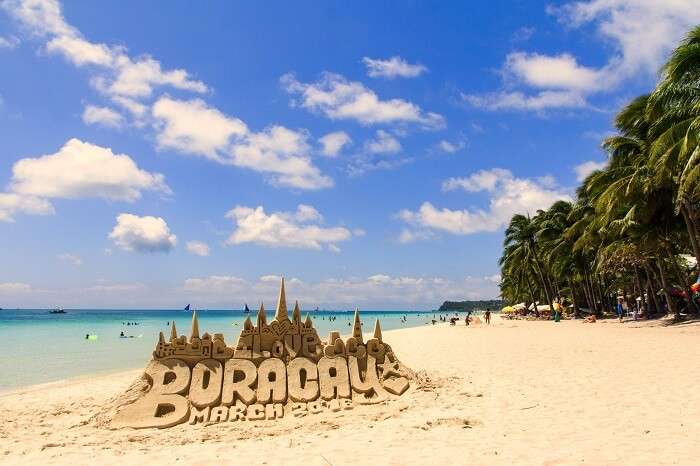 The tiny island of Boracay is only about 7 KM long but offers one of the best beaches in Asia – The White Beach. A popular tourist destination, it provides best water activities like jet skiing, scuba diving, Flyfish, and snorkeling. Currently closed for environmental rehabilitation, the island is likely to open in November, the best season to experience the island on all Philippine holidays.
Places To Stay: Diniview Villa Resort, Under the Stars Luxury Apartment, The District Boracay, Mandala Spa & Resort Villas, Fairways and Bluewater Boracay
Things to do: Scuba diving, watersports, island hopping, relaxing on the beach
11 Best Destinations For Snorkeling That Bring Out The True Aura Of Underwater Beauty In 2022
The list of places to visit in Philippines is exhaustive, and we have included just the best ones here! South East Asia is a wonderful destination for travel and you must book your Philippines tour right away to explore more of this beautiful country!